4-Wire Resistance Test and General Purpose Controller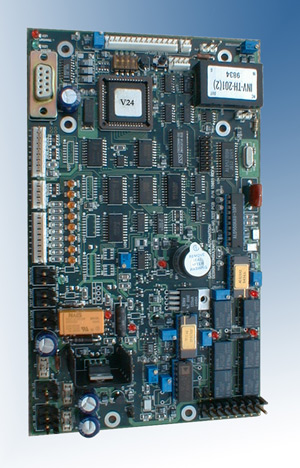 This microcontroller-based circuit board may be used as a complete stand-alone test controller. It is designed to safely perform a series of precision resistance tests while monitoring interlocks and other inputs and controlling door closures and air valves. Simple, easy to understand discrete logic is used, with extensive transient protection and noise reduction circuitry.

The Resistance Test board may be programmed to suit your requirements, whether as a precision resistance test system, or as a flexible, general purpose control board.

Precise current source with 1mA/10mA select
Instrumentation amplifier with gain select = 1/100
LCD driver built-in for 2×16 display with backlight
Motorola 68HC711E20 microcontroller
RS232 Interface
Output (250mA) for DC motor drive with reverse
Piezo speaker on-board
Internal reference resistance for test verification
Two 4-Wire inputs with selector
11 general purpose sinking outputs
3 general purpose logic inputs/outputs
Interlock and test start inputs
Interlock disconnects all resistance test outputs
8 general purpose sinking inputs
Diagnostic LED indicators
Four position option switch
Fuse protection provided on all power supplies
Santa Barbara Automation delivers this board assembled, with schematics, calibration data and traceable certifications.
Downloads (PDF)