4-Wire Multiplexer with Polarity Select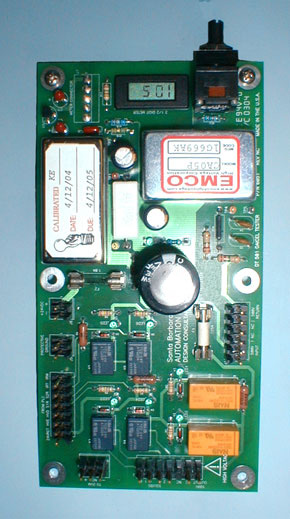 Used for production testing applications requiring switching of signals from parts under test to instrumentation for high precision, high speed resistance, Thermal Transient and insulation resistance test. This circuit board maintains full 4-wire connections from the part under test to the instrumentation. Either of two input channels may be selected for test.
A third channel is provided for a piggyback single channel test certification board (see Measurement Verification – single channel). This unique board will quickly produce calibrated, traceable measurements for resistance, Thermal Transient and insulation resistance, confirming the ability of the equipment to accurately test production parts.

When used with a vision system for part orientation detection, the applied polarity for resistance and Thermal Transient test may be selected, reducing small errors caused by thermocouple effects.
Simple logic inputs for test control
No clocked circuitry for lowest possible noise
Three channel multiplexer with logic select
Full 4-wire connections to the test parts
Two high voltage outputs for insulation resistance test
External instruments used for measurement
External DC source for up to +500VDC hi pot test
High voltage enable and individual direct/10 Meg series select
Diagnostic LED indicators for all test types
Transient protection/noise supression circuitry for logic
Fuse protection provided for +5/+12/+500V power supplies

Santa Barbara Automation delivers this board assembled, with schematics and interface information.
Downloads (PDF)