2-Wire Multiplexer and High Voltage Source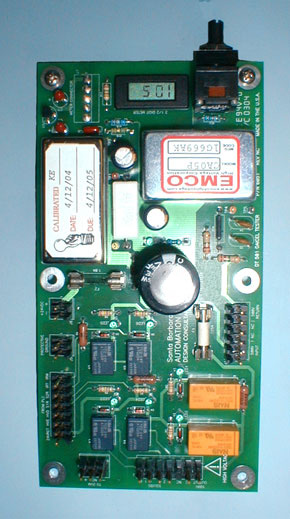 This is a compact circuit board that may be used to for 2-wire resistance test, voltage and current measurement and insulation resistance test.
Either of 2 parts may be selected for 2-wire resistance test using PLC compatible input signals (+24VDC). The selected part is connected to an external multimeter for measurement. Two other PLC compatible inputs select high voltage enable and direct/10 megohm series resistance for insulation resistance (hi pot) testing. Diagnostic LED indicators clearly show the status of the board.
Resistance, voltage, current and insulation resistance test
Two external inputs with select
External multimeter used for measurement
Internal isolated DC source for +50VDC to +500VDC
High voltage enable and direct/10 Meg series select
Manual adjustment for high voltage output
LCD display with backlight for high voltage
Diagnostic LED indicators for all inputs
Transient protection/noise suppression circuitry included
Fuse protection provided for +24/+500V power supplies

Santa Barbara Automation delivers this board assembled, with schematics, calibration data and traceable certifications.
Downloads (PDF)